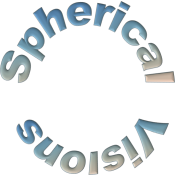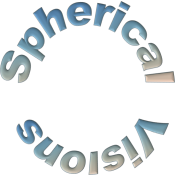 Spherical Panoramas allow the viewer to look in any direction, as if one were standing in the center of a sphere.
The Spherical Panorama does away with the photographer's single framed point of view.
You are free to explore every angle and to inspect any detail of the image by zooming in and around the total sphere.
You can also view these images within Google Earth or at 360Cities see the links at the bottom of this page.
You will require a viewer to see the images, if you don't have one installed already (there are several available free) then the system will offer you a link. If you prefer to manually control the viewer selection then please make your choice below.
Select viewer:
To view the panoramas click the thumbnail images below.
The Denge Sound Mirrors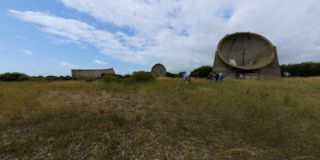 These three concrete structures were built shortly after World War One, and formed part of a network of such mirrors intended to track aircraft across the country. The spherical surfaces reflect sound waves in much the same way as radio signals from satellities however by using spherical rather than parabolic dishes some measure of the direction can be obtained without having to physically move the dish ..... However before the network could be completed they fell into disuse as the speed of aircraft increased, the accuracy and range fell short of what was required. For a detailed description of the structures visit the website Denge sound mirrors. Access to the site is very restricted with only a few days each year when access is available see the Romney Marsh Countryside Project for details.
WARNINIG - This is a high-res image, it will take a while to download in its entirety.